Odun Energy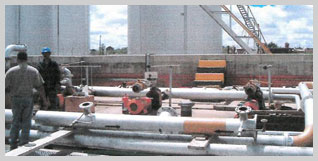 Is a specialized company in the energy sector. We have been involved in the upstream and downstream oil and gas sector for over 14 years.
In the downstream oil and gas industry, we handle every aspect of trading of petroleum products; sourcing, marketing, shipping, financing, logistics etc. we are currently active in seven West-African countries and are expanding. In the upstream sector we provide oilfield support services to onshore and offshore operators. We can provide logistics support, equipment leasing, supply of chemicals, Tugs, barges, cranes, work-over platforms, supply vessels amongst others. We intend to intensify our effort in 2011/2012 to enter fully into oil and gas exploration and production.
In 2011, we restructured our operations to enable us focus on the needs of our customers and anticipated demand and have commenced plans to build a 500,000 MT (metric ton) petroleum storage depot that will store refined petroleum products including Automotive Gas Oil (AGO), Gasoline/Premium Motor Spirit (PMS), Liquefied Petroleum Gas (LPG), Bitumen and Dual Purpose Kerosene (DPK). We are also acquiring our own vessels to enhance our operations and conducting a feasibility study for the construction of a petrochemical plant. We have established a reliable network of partners (refineries, major global traders, supply vessel operators) for the competitive supply and delivery of petroleum products. Our hope is to be a major supplier of Base Oils, Bitumen, Naphtha, and LPG in West Africa.
We intend to participate in the power generation and transmission sector by 4th quarter 2011 with our partners by constructing and operating power plants; gas-to-power, renewable energy and become a leading private power producer in the region. Our venture into renewable energy is a key focus area which we are aggressively pursuing.
Area of Activity
Crude Oil

Gasoline / Premium Motor Spirit (PMS)

Automotive Gas Oil (AGO)

Liquefied Petroleum Gas (LPG)

Power
Shipping
Liquefied Natural Gas (LNG)

Dual Purpose Kerosene (DPK)

Bitumen
Naphtha
Finance
Fuel Oil

Petrochemical Products

Fertilizer / Urea

Carbon Emissions